Philip Kerr: Berlin Noir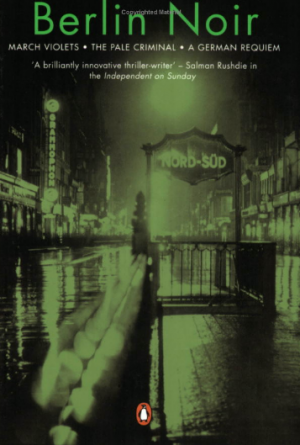 The book Berlin Noir by Philip Kerr consists of three novels with Nazi Germany in background - richer and more readable than most histories of the period. We first meet ex-policeman Bernie Gunther in 1936, in March Violets (a term of derision which original Nazis used to describe late converts.) The Olympic Games are about to start; some of Bernie's Jewish friends are beginning to realize that they should have left while they could; and Gunther himself has been hired to look into two murders that reach high into the Nazi Party. In The Pale Criminal, it's 1938, and Gunther has been blackmailed into rejoining the police by Heydrich himself.
And in A German Requiem, the saddest and most disturbing of the three books, it's 1947 as Gunther stumbles across a nightmare landscape that conceals even more death than he imagines. (For a review of Kerr's latest novel, The Grid, see our Thrillers section.)
Ex-policeman Bernie Gunther thought he'd seen everything on the streets of 1930s Berlin. But then he went freelance, and each case he tackled sucked him further into the grisly excesses of Nazi subculture. And even after the war, amidst the decayed, imperial splendour of Vienna, Bernie uncovered a legacy that made the wartime atrocities look lily-white in comparison...
Otto Rahn in the book is just a criminal character, but a lot of historical events and persons reconstracted accurately
Paperback: 834 pages
Publisher: Penguin (Non-Classics) (January 1, 1994)
Language: English
ISBN-10: 0140231706
ISBN-13: 978-0140231700
On Amazon
Berlin Noir: March Violets; The Pale Criminal; A German Requiem<