Otto Rahn and the Quest for the Grail: The Amazing Life of the Real "Indiana Jones" by Nigel Graddon
Editorial Reviews
Product Description
Who was the amazing Otto Rahn? How come if Rahn was such an amazing man has hardly anyone outside specialist pre-WW2 history circles ever heard of him? But is he really such an unknown? The story lines of Raiders of the Lost Ark to Indiana Jones and the Last Crusade mirror Rahn's incredible adventures in the South of France in the early 1930s.
About the Author
Nigel Graddon lives in South Wales with his wife Val, a Special Needs Teacher, and his son Lewis, a science undergraduate. Nigel has written various articles on these topics for historical societies.
Product Details
Paperback: 380 pages
Publisher: Adventures Unlimited Press (April 15, 2008)
Language: English
ISBN-10: 1931882827
ISBN-13: 978-1931882828
Product Dimensions: 8.9 x 5.9 x 0.8 inches
Otto Rahn and the Quest for the Grail: The Amazing Life of the Real "Indiana Jones"<
Some comments from the Amazon page:
By M. Souliere (massachusetts)
There is alot of information in this book that you can't get anywhere else. I only wish there was more. It not only gives you some insight into a man the world seems to know little or nothing about, but it gives you some insight into how the Nazis believed they could enforce world domination. It doesn't seem that Otto Rahn was sympathetic to the Nazi cause. And maybe, after reading the book, I am thinking that he did find something in the Pyranees in France. Read the book and see for yourself. You won't be able to put it down.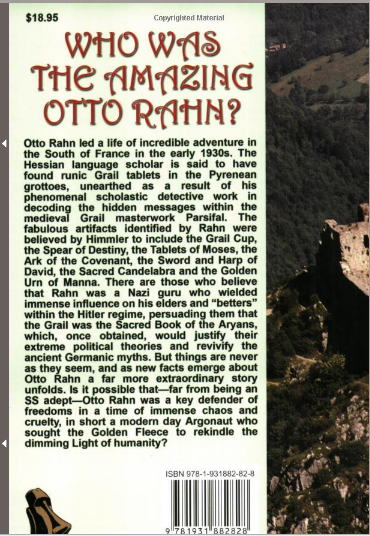 By J. Boulter
What can i say about Otto Rahn and the Quest for the Grail.
This is the True story of the True Indiana Jones. An Amazing Journey through the Life of Otto Rahn who was a True Initiate of Secret Knowledge and had access to a web of Secret Societies having their origin in Fin De Siecle France. His involvement with the Nazis brought him attention and Money but his true Missions carried on regardless bringing him in contact with other Initiates like Marlene Dietrich. Mr Graddons book details these connections as no other Book has done before and one can branch off between the lines to many areas of research. This book is not a Novel to be read once but to be kept as a Reference for Nazi Occultism and Continental Esoterica of the last 2 Centuries.
I saw about 3 books simultaneously intertwined and i can see new spin offs for further indepth research.