Otto Rahn Obituary in Völkische Beobachter 18-5-1939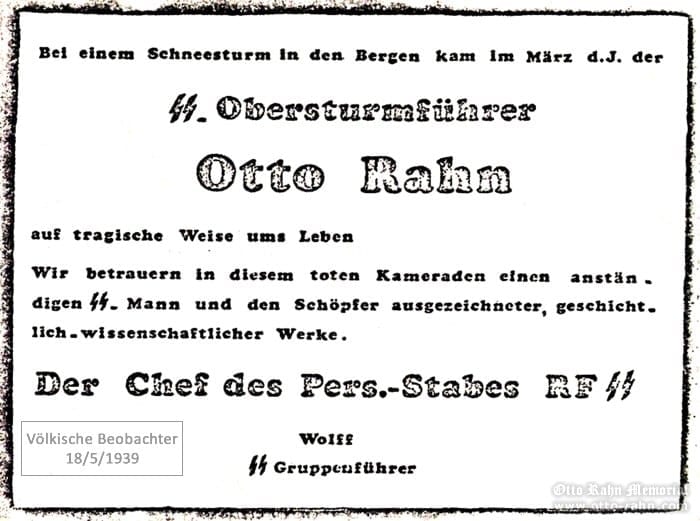 German:
Bei einem Schneesturm in den Bergen kam im März d.J. der SS-Obersturmführer Otto Rahn auf tragische Weise ums Leben. Wir betrauern in diesem toten Kameraden einen anständigen SS-Mann und den Schöpfer ausgezeichneter, geschichtlich-wissenschaftlicher Werke.
Der Chef des Pers.-Stabes RF SS
Gruppenführer SS Wolff.
English:
SS - Obersturmführer OTTO RAHN died tragically in March of this year in a snow storm in the mountains. We mourn the loss of our comrade, decent SS-man and creator of outstanding historical-scholarly works.
SS Chief of Staff, Gruppenfuhrer Wolff.
Russian:
Во время снежной бури в горах в марте этого года трагически погиб оберштурмфюрер СС Отто Ран. Мы скорбим о потере нашего товарища, добропорядочного эсэсовца и создателя выдающихся научно-исторических работ.
Начальник штаба СС, группенфюрер CC Вольф.
Similar By Terms
| | | | |
| --- | --- | --- | --- |
| | | | |
| | | | |