Indiana Jones and Otto Rahn (The Starlog Project: Starlog #152, March 1990)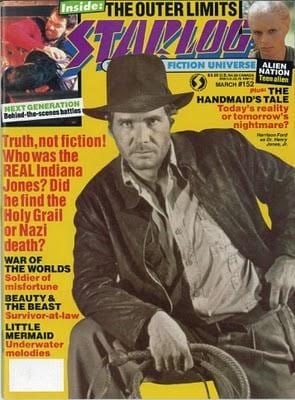 Writer Robert Dassanowsky-Harris pens an intriguing cover story this issue, "The Real Indiana Jones," that seeks to tie the fictional film hero to real-life attempts to find holy relics. Dassanowsky-Harris identifies German Holy Grail seeker Otto Rahn as the Indy prototype. Frankly, I'd prefer that he had focused on the Rahn story, which is odd and compelling in itself, rather than try to link every character and plot development to some real-life or mythical antecedent.
Rahn was a young adventurer and author who got caught up in the romantic quest for the Grail, ended up serving the Nazi regime (which apparently was, as indicated in Raiders of the Lost Ark, really obsessed with finding religious artifacts that allegedly imparted earthly powers). He died a mysterious death, believed either to have been killed in the Nazi death machinery or to have killed himself in a bizarre religious ritual.
Yes, those Nazis were evil and vicious, but definitely not boring.
Photo caption of the month: "Under Hitler's funding, Otta Rahn may have actually been more of a Belloq than an Indiana Jones. (By the way, there are no photos of the mysterious Rahn.).'" Ah, yes, the innocent days before a Google Images search of "Otto Rahn" turns up many photos of the teutonic adventurer.
Classified ad of the month: "MOTHER TRIBBLE GIVES BIRTH to a litter of three. Send $10.00 + 3.00 s&h, check, or money order to ..."
The rundown: It's an action-packed issue. Despite the fears of one reader last issue, Harrison Ford's Indy is back on the cover, but this time in support of an historical article, not a movie preview or interview. (And it's still not the final Ford/Indy cover.) Another Raiders-era Indy photo is featured on the contents page. Communications letters include feedback on recent author interviews, the obligatory Star Trek letters, and more; and David McDonnell's Medialog tells us that former Starlog staffer (and Future Life editor) Ed Naha is lined up to script Short Circuit 3, plus other news.
Peter Bloch-Hansen interviews handsome actor Adrian Paul, who joins the second season of syndicated TV series War of the Worlds; Desire Gonzales talks with Beauty and the Beast actor Jay Acovone, who starts off with, "When I heard that Linda Hamilton was leaving the show, I panicked! There goes my house!"; David Hutchison's Videolog tells us about the latest video releases, including the final (well, so far as of 1990) Indiana Jones film, The Last Crusade; Sean Six, who portrays "Buck Francisco," the "most restless member of an Alien Nation," is interviewed by Marc Shapiro; the Fan Network pages include Lia Pelosi's directory of fan clubs and publications; Kyle Counts interviews veteran TV producer Leslie Stevens about The Outer Limits and Buck Rogers in the 25th Century; Edward Gross talks to Star Trek: The Next Generation writer/producer Maurice Hurley, who notes that "Star Trek has absolute rules that cannot be broken, and nobody knows that until they get into it. It's a problem that all writers have had for the most part"; and Ian Spelling reports on the music of The Little Mermaid, via songwriters Howard Ashman and Alan Menken.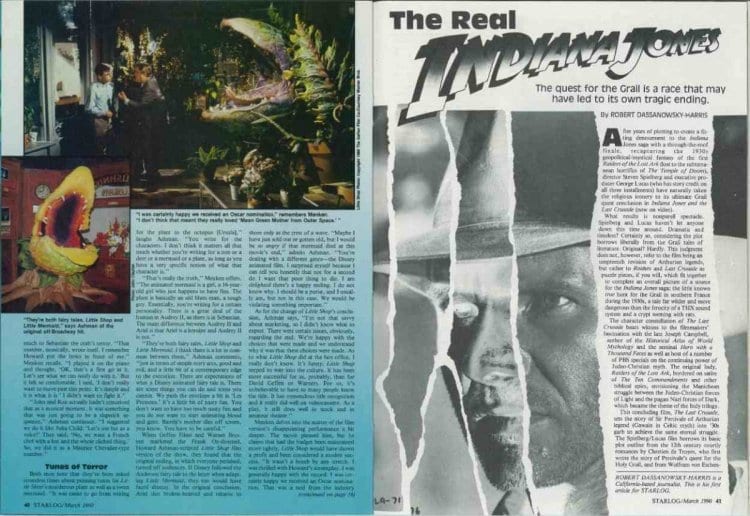 Robert Dassanowsky-Harris' cover story on "The Real Indiana Jones" is part historical essay, part speculative brainstorming. He spends too much time (in my humble opinion) trying to find echoes in every major character and plot development from past historical incidents or legends, and I think he just over-stretches some of the time. But the parts of the article that cover Otta Rahn are worth the price of admission – and ideally would have been the sole focus of the article. That's because his life does echo (with darker shades) the high-flying adventuresome character of Indiana Jones, and it's a nice real-world reminder that adventure and excitement isn't only in movies; there are real people in the world who climb mountains, or who travel the globe searching for relics, or who go up against tremendous odds. I think every young reader (and not-so-young ones) of Starlog could take away something positive from that message. Just not the Nazism, I hope.
Jami Bernard talks with director Volker Schlondorff (is there a more German name in the universe?) about his latest effort, The Handmaid's Tale, the adaptation of Margaret Atwood's feminist tale; Margaret Baroski profiles The New Avengers star Gareth Hunt; T.L. Johns interviews science-fiction writer Melissa Scott (The Kindly Ones, A Choice of Destinies); Bill Warren chats with actor Rex Holman, who appeared both in an episode of the original Star Trek ("Spectre of the Gun") and in Star Trek V: The Final Frontier, plus a sidebar by Mark Phillips checks in with actor Ron Soble, who also appeared in "The Spectre of the Gun"; in part three of his interview with Ray Harryhausen producing partner Charles H. Schneer, Steve Swires reports that Schneer nixed the idea of Arnold Schwarzenegger appearing in Clash of the Titans, thank God; in his Bridge column, Kerry O'Quinn uses his nephew to illustrate a story about overcoming fear of the future; and editor David McDonnell wraps it all up in his Liner Notes column by asking readers to tell him what they'd do if they were Starlog's editor, plus listing winners of recent book give-aways.
"You know, when I was watching Star Trek: The Motion Picture I kept thinking to myself, 'My, how the Klingons have changed!' And during The Wrath of Khan, I kept thinking, 'My, how the uniforms have changed!' And during The Search for Spock, I kept thinking, 'My, how Lt. Saavik has changed!' And during The Voyage Home, I kept thinking, 'My, how the production values have changed!' Now during The Final Frontier, I kept thinking, 'My, how the actors have changed!'"
–Christopher Haviland, reader, "Communications"
Similar By Terms
| | | | |
| --- | --- | --- | --- |
| | | | |
| | | | |