Rumors around the Otto Rahn death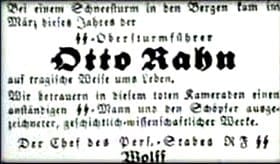 Initially it was stated that the cause of Rahn's death was either "exposure" or "pneumonia", notwithstanding the fact that he was young and vigorous and an experienced mountain climber who had once spent an entire snowbound winter in the Alps.
A subsequent account of Rahn's demise related that he drank a bottle of rum, fell asleep in the snow and froze to death while climbing a mountain known as the "Wilde Kaiser". (Die Welt Newspaper, May 1:t, 1979)
Later rumors claimed that Rahn had committed suicide by swallowing a cyanide capsule while on the mountain.
Another report by Gerard de Sede ("The Treasure of the Cathari", 1966) postulates that Rahn did not die on a mountain top in 1939, but was arrested and imprisoned in solitary confinement at the Dachau concentration camp. He was beheaded in 1945 just before the compound was liberated by American forces.
One of the most interesting accounts of Rahn's fate appeared in the German newspaper "Die Welt" (The World) on May 12, 1979. The article is entitled "The Double Rahn and His Holy Grail" and is based on a previous article or book by a French author named Christian Bernadacas. The French writer alleges that Rahn did not die either in 1939 or 1945. He had established a "mysterious order" with connections in Holland, France and Switzerland and as leader of this movement he was irreplaceable to Germany. Presumably the "New Order" was based on Cathar principles and Rahn was central to its success. For complex and unexplained reasons Rahn's enemies planned to kill him. It became necessary to fake his suicide in order to save his life. His name was changed to Rudolf Rahn and his features were altered by extensive plastic surgery. The new Rahn was then appointed to the diplomatic service and sent to Iraq as an ambassador. Later he served as ambassador to Italy. He died in 1975.
Thus, this always mysterious and puzzling man passed from the stage of world history.
In an overall assessment he seems to have been a person whose dreams were lost in the Middle Ages and who wandered innocently into the dangerous complexities of the twentieth century where he faced a world which he did not understand and for which he was ill-prepared. Whenever Rahn died, or from whatever cause, his final curtain call attracted less notice than might have been expected for the man who had discovered the Treasure of the Ages or who had, at least pointed others in its direction. He was a man who knew too much about the earth and too little about its inhabitants.
Similar By Terms
| | | | |
| --- | --- | --- | --- |
| | | | |
| | | | |