The version of Rahn's service after death in 1939 as a ambassador to Italy is untenable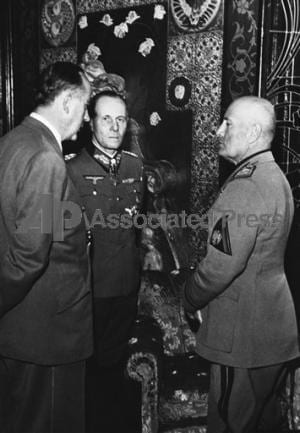 One of the versions of the life of Otto Rahn after his death in 1939 is that some Rahn was Germany's ambassador to Italy in the Third Reich recent years. Indeed, this man existed, but it does not seem to our Otto.
There is a photo from the archives found in the depository of the Assotiated Press<.
От the photo: The German Ambassador in Italy, Otto Rahn, left, talks with Germany's Field Marshal Erwin Rommel and Benito Mussolini during a reception in governmental quarters in Italy on Jan. 22, 1944.
Although the Rahn's face is almost invisible it is safe to say that this person older than 50 years, above medium height, large build, that does not correspond to the shape of subtle Otto Wilhelm Rahn, who at that moment would have to be 40 years old.
Nevertheless, there is a certain strangeness. German Ambassador to Italy, Rudolph Rahn name was. Why on the caption to the photo he is named Otto? Error, or is it a proof of the second life of Otto Rahn?
Look at photos: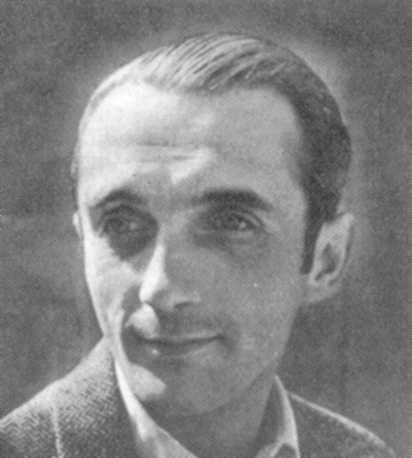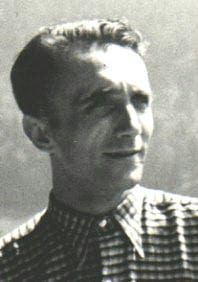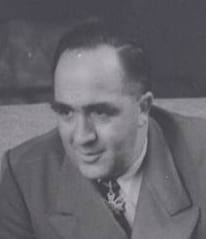 The first two pictures - Otto Rahn, the second photo of them - one of the lattest ones, on it Otto is 34-35 years old. The photo of Rudolph Rahn was made ​​in 1944, at this time Otto had to be 40 years old.
Judge for yourself. We can not say that there is no resemblance - but nevertheless, it is unlikely that plastic surgery can so wear out. Also eyebrows of Rudolf are quite different than the Otto's ones, thick and large. Rudolph height, as already mentioned, a lot more than average. Otto also was not small, according to the descriptions above average height, but his figure is subtle, i.e. thin bones. At the same time, Rudolph obviously a big man by nature, with big bones.
I think these are yet different people.
2 days later after some investigations:
Rudolph Rahn was Rudolph Rahn. Hier some fact of his bio (http://forum.axishistory.com/viewtopic.php?f=5&t=66810&start=30<):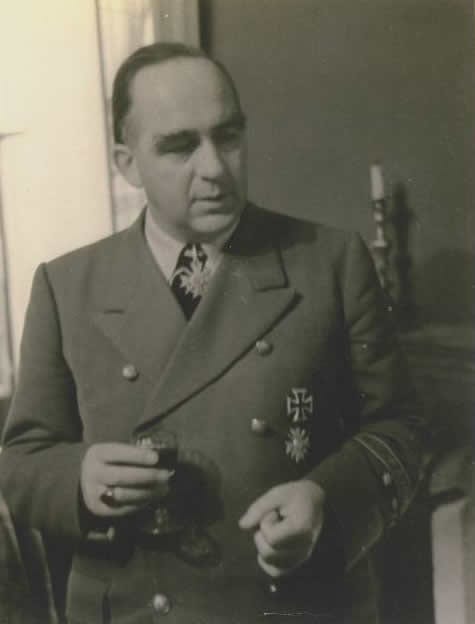 Studies for political sciences and sciology in Tübingen, Berlin and Heidelberg
* 13.03.1900 Ulm , + 07.01.1975 Düsseldorf.
Son of a notary
01.06.1933 Eintritt in die NSDAP
29.11.1934 Legationssekretär
14.12.1939 Legationsrat
23.02.1940 Legationsrat I. Klasse
22.02.1941 Vortragender Legationsrat
00.02.1942 Gesandter
26.06.1943 Gesandter I. Klasse
10.12.1943 Botschafter
1923 Promotion zum Dr. phil. (Ruperto Carola Heidelbergensis)
setzte seine Studien im Ausland fort (studies also abroad)
21.04.1928 Einberufung in die Abt. V (Recht) des Auswärtigen Amtes/AA
01.05.1928 Dienstantritt (DA)
31.03.1931 - 07.07.1934 Attaché in Ankara
08.05.1931 DA
28.05.1934 zum Referat O (Orient) der Abteilung III (Britisches Reich, Amerika, Orient) des AA versetzt
10.07.1934 DA
02.04.1936 der deutchen Delegation für die deutsch-türkischen Wirtschaftsverhandlungen zugeteilt
10.04.1936 DA in Ankara
27.05.1936 Abreise aus Istanbul
17.07.1936 - 01.12.1936 beim Amt für deutsche Roh- und Werkstoffe des Beauftragten für den Vierjahresplan
07.12.1936 Leiter des Referats W I (Rohstoffe) in der Handelspolitischen Abteilung des AA
18.01.1937 zugleich Leiter des Referats W VIIIb (Süd-, Mittelamerika)
27.01.1938 - 11.05.1939 Gesandtschaftsrat II. Klasse an der Deutschen Gesandtschaft in Lissabon
28.02.1938 DA
13.04.1939 zur Kulturpolitischen Abteilung des AA versetzt (12.05.1939 DA)
12.05.1939 DA
01.08.1939 - 00.08.1940 stellvertretender Leiter der Informationsabteilung im AA, zugleich Leiter des Sonderreferats Allgemeine Planung
17.08.1940 - 20.11.1940 Leiter der Propaganda-, Presse- und Rundfunkarbeit in der Dienststelle des Bevollmächtigen des AA beim Militärbefehlshaber in Frankreich
21.08.1940 DA
20.11.1940 - 12.11.1942 Leiter der Propaganda-, Presse- und Rundfunkarbeit der Deutschen Botschaft in Paris
06.05.1941 - 21.09.1941 Sonderauftrag in Syrien und im Irak (Ankauf französischer Waffen zur Ausrüstung der irakischen Armee)
15.11.1942 - 10.05.1943 Vertreter des AA beim Deutschen Afrika-Korps und beim Oberkommando der 5. Panzerarmee (ab 23.02.1943 HGr. Afrika) in Tunesien (Tunis)
30.08.1943 - 09.09.1943 komm. Leiter der Dt. Quirinal-Botschaft in Rom
16.09.1943 - 00.05.1945 Bevollmächtigter des Großdeutschen Reiches bei der Italienischen Faschistischen Nationalregierung
27.09.1943 Übernahme der Geschäfte in Fasano
05.11.1943 zugleich Botschafter bei der Republik Salo
11.12.1943 Übergabe des Beglaubigungsschreibens
Nach dem Krieg Geschäftsführer der Coca-Cola-Abfüllbetriebe in Düsseldorf
(Biograph. Handbuch des deutschen Auswärtigen Dienstes, Bd. 3)
So, the topic must be closed.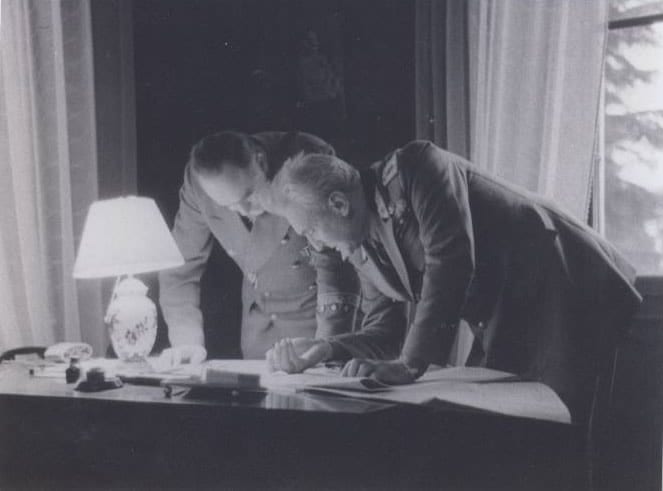 Rudolph Rahn and Italian General Graziani
Mussolini with Wolff to his left, Rahn to Mussolini right, Pohl to the right of Rahn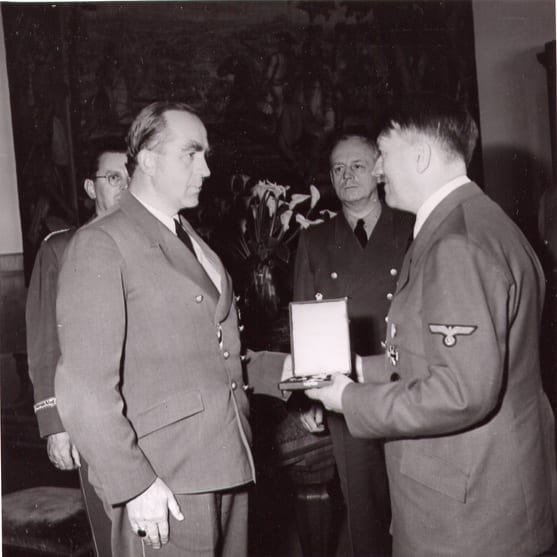 Hitler awarded Ritterkreuz des Kriegsverdienstkreuzes to Dr. Rudolf Rahn
Similar By Terms
| | | | |
| --- | --- | --- | --- |
| | | | |
| | | | |