Dust Devil - The Final Cut, DVD (The Secret Glory included)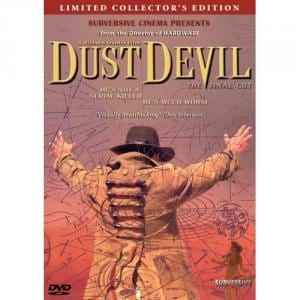 The Secret Glory film is inside
DISC THREE: The Secret Glory
The third disc in this set contains The Secret Glory, which is Richard Stanley's 2001 documentary that details SS Officer Otto Rahn's bizarre quest to find the Holy Grail. With a ninety minute running time, this feature length documentary proves to be a fascinating look into a part of the Second World War that isn't really touched on much in the history books or the standard History Channel style documentaries. It begins with Stanley's narration explaining how Lucifer was cast out of Heaven, then the origins of the Holy Grail. We get some history of the artifact that explains its significance and from there we learn about how the Nazi's came to be interested in finding the grail, specifically how Otto Rahn obsessed over it.
Otto's daughter is interviewed quite extensively here and she explains how her grandfather was a very religious man and how much of that was passed on to her father. A few other interviewees explain Rahn's growing obsession with the artifact and how it all ties into the Nazi philosophy of the time.
This is a fascinating documentary and anyone with a remote interest in either the history of the time or in the supernatural should really enjoy the way that Stanley ties all of this together. It's very well researched and quite detailed in its explanations and it thankfully treats the subject matter completely seriously. In addition it also contains some really interesting archival footage and still photographs that further serve to round out the film.
Included as the main extra feature on this disc is an optional commentary track with Richard Stanley and Norman Hill. As with the commentary for Dust Devil, this is a very active track as Stanley has just as much to say about this film as he does about the main attraction on the disc. He covers how he came to make this project and details some of the research that went into getting it written.
Subversive has also included an interview with Richard Stanley in the supplements for this disc, and he starts it off by saying that the idea for making this film probably came from watching too many Argento films at a young age. From there he explains how he came on board the project and after that he talks about different religions and how they affected the events portrayed in the documentary. He also comments that part of the appeal of this project was being able to work on a movie where the cameraman wouldn't get hurt (as he did on both The White Darkness and Voice Of The Moon!). Throughout the twenty seven minute he covers trying to track people down for interviews, and more. It's a pretty high brow talk but if you enjoyed the documentary this does a nice job of shedding some light on its origins.
Info about DVD
Product Details
Actors: Robert John Burke, Chelsea Field, Zakes Mokae, John Matshikiza, Rufus Swart
Directors: Richard Stanley
Format: Box set, Color, DVD, Limited Edition, NTSC
Language: English (Dolby Digital 2.0 Stereo), English (Dolby Digital 5.1)
Region: Region 1 (U.S. and Canada only. Read more about DVD formats.)
Aspect Ratio: 1.85:1
Number of discs: 5
Rated: Unrated
Studio: Subversive Cinema
DVD Release Date: September 26, 2006
Run Time: 87 minutes
Average Customer Review: 4.2 out of 5 stars
See all reviews (29 customer reviews)
ASIN: B000HEWGTW
Amazon Best Sellers Rank: #25,899 in Movies & TV (See Top 100 in Movies & TV)
Would you like to update product info or give feedback on images?
For more information about "Dust Devil - The Final Cut (Limited Collector's Edition)" visit the Internet Movie Database (IMDb)
Special Features
Deluxe 5-disc set including
2 versions of Dust Devil: the final director's cut and a longer work print version
3 of Richard Stanley¹s most controversial documentaries: The Secret Glory, Voice Of The Moon, and The White Darkness
Bonus Soundtrack CD
Audio commentary tracks with cast and crew
Featurettes with cast and crew
Still galleries
Talent bios
Trailers
Exclusive Dust Devil comic book
Production diary and essay booklets
Editorial Reviews
Amazon.com
As noted by Richard Stanley fans, Dust Devil, the feature following his box-office hit Hardware, failed to find release, and when it did, a terrible edit drastically altered the story. Subversive Sinema has now released the director-approved final cut of Dust Devil, in a box set that also contains Dust Devil's working edit, the film's Sergio Leone-like soundtrack, and three riveting Stanley documentaries: The Secret Glory, Voice of the Moon, and The White Darkness. Dust Devil, a horror story based on the myth of a Namibian serial killer, looks more like a Western. Filmed on location in Africa where the murders allegedly took place, Chelsea Field plays Wendy Robinson, a woman, who under duress of leaving her husband, heads out to the desert to accidentally encounter the Dust Devil (Robert John Burke), a mercy killer who slays depressed women to save them from the dark side. According to locals, the Dust Devil is a demon, enabling Stanley's abiding interest in world folk religions to weigh heavily in on the plot, especially when the town's witch doctor visits the beyond to unlock mysteries, or when the Dust Devil displays a box containing his victims' fingers. The documentaries, however, are most exciting. The White Darkness unravels political and social aspects of Haitian Voudon, including the history of American Imperialism in Haiti, as told by skilled priest and priestess, Altes Paul and Edelle. Voice of the Moon shows footage of Afghani rebels in the late '80s, sans narrator, instead beautifully accompanied by native music and poetry, adding Herzogian emotional effect. The Secret Glory pieces together the story of Otto Rahn, an SS officer who thought he'd located the Holy Grail. In all three films, the authenticity of the subjects reign, making it more difficult to buy the magic's fictionalized version in Dust Devil. Dust Devil, though, with its cheesier horror moments, provides a dose of humor to a fairly serious package. --Trinie Dalton
Product Description
Richard Stanley's highly sought-after "Director's Cut" makes it's home video debut. Wendy (Chelsea Field; David Lynch's Hotel Room A Passion To Kill Wicked) leaves her husband taking off into the voids of Africa. She picks up a hitchhiker (Robert John Burke; Confessions of a Dangerous Mind Good Night and Good Luck Munich) a traveling Serial Killer who snaps photos of his victims before killing them. Wendy does not realize the danger she is in until a police detective (Zakes Mokae; The Comedians Gross Anatomy Waterworld) arrives to warn her that her "companion" is something much worse than just a killer he is a shape-shifting demon who steals his victims' souls. Soon both the officer and Wendy become the next intended victims of the Dust Devil The 5-disc set includes:Dust Devil: The Final CutDust Devil: The Final Cut Work Print (with additional footage)Three Richard Stanley documentaries: The Secret Glory Voice Of The Moon and The White Darkness (on 2 discs)Bonus Soundtrack CDFormat: DVD MOVIE Genre: HORROR Rating: R UPC: 858964001133 Manufacturer No: 1133
On Amazon:
Dust Devil - The Final Cut (Limited Collector's Edition, The Secret Glory included)<
P.S. User's comment on Amazon:
The Secret Glory, the incredible true story of SS Officer Otto Rahn's quest to locate the Holy Grail for the Nazis. As I understand it, The Secret Glory is the best source of information about this fascinating but neglected historical figure who, if he had lived, would be in a position to sue both Dan Brown AND the authors of Holy Blood Holy Grail for intellectual property theft
Similar By Terms
| | | | |
| --- | --- | --- | --- |
| | | | |
| | | | |