Dan McNeil: The Judas Apocalypse, and Interview with the author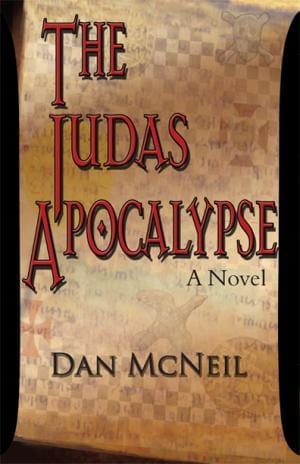 On the eve of the Second World war, Dr. Gerhard Denninger, a German archeologist is approached by infamous Grail seeker Otto Rahn who tells him a fantastic story of Templars, Church scandal, a long-buried manuscript, and the key to finding the famous lost treasure of the Cathars. In 1944, with the help of a group of American soldiers, Denninger continues his quest for the secret of the Cathar treasure. With dangers dogging them at every step, will they find what they're seeking? And will they be prepared for the shocking discovery that awaits them?
---
Daniel McNeil Interview by Lorna T. Suzuki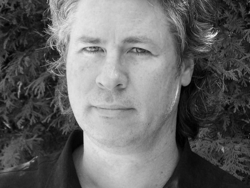 I've met some of the most interesting writers on Twitter and my guest blogger, fellow Canadian and debut novelist Dan McNeil is no exception! Before we talk about your book 'The Judas Apocalypse', let's start with a little information about you. I know you were born and raised in Toronto. Any other personal details you'd like to share with the readers?
DM: I'm 47 years old and used to be married (separated now). I have two amazing daughters who keep me on my toes and on weekends I play in a classic rock band with some of the best musicians in Ottawa. (It's really a kick-ass band, I gotta say…can I say kick-ass?)
Sure, as long as it does not imply physically putting the boot to someone's backside! Now, I understand you are an award-winning songwriter, even winning the Nashville Songwriters Association International competition in 2002. Being so gifted as a musician and songwriter, is writing something that came to your later in life, or has writing stories always been a part of your life and becoming a published author a life long dream?
DM: I knew I could write music, but a book? I always wanted to write one, but sitting down and doing it seemed so unreal that I always pushed it out of my mind. Booted it out, actually. I read books, not write them. I honestly didn't think that I would (or could) ever do it but I finally decided to give it a shot. I really just wanted to see if I could pull it off.
You've received rave reviews about your debut novel, 'The Judas Apocalypse', even being compared to international bestselling author Dan Brown of 'The Da Vinci Code' fame. What is the inspiration behind this story and can you tell us a little bit about your protagonist, Gerhard Denninger?
DM: I'd had the idea for years and I knew it was a good one but I also knew that if I attempted it, it was gonna be a long, hard slog. When I finally decided to do it and began the arduous but necessary research process, I discovered a whole treasure trove of information that sent the basic plot spiraling off in an exciting and at the same time, controversial direction. It really energized me. I also knew that I wanted to populate the book with real historical characters. For instance, Otto Rahn, the German archaeologist who searched for the Holy Grail (and was one of the inspirations for Indiana Jones, by the way) appears as one of the characters helping Denninger on his quest.
Without a doubt, I wanted to stay away from the stereotypical young protagonist (and the beautiful assistant who inevitably turns out to be his love interest.) I wanted my hero to be not what you'd expect and archaeologist Gerhard Denninger is probably the farthest thing from any hero stereotype – he's in his 60's and a member of the German Heritage Society during World War 2. He hides his ethnic background from his Nazi superiors so that he has the opportunity to look for the lost Cathar treasure and is willing to stop at nothing to find it. Dr. Denninger is definitely not your average action hero.
Without giving away too much, can you reveal what's in store for the reader when they crack open 'The Judas Apocalypse'?
DM: At its heart, it's a good old-fashioned treasure hunt. I usually describe it as an Indiana Jones meets "Kelly's Heroes" kind of adventure. It begins when German archaeologist Gerhard Denninger meets Grail seeker Otto Rahn on the eve of the Second World War. Rahn tells Denninger of a Knights Templar scroll that when decoded, will reveal the lost Cathar treasure which he believes lies in southern France. Rahn disappears just as the scroll falls into Denninger's hands, setting the archaeologist off on a journey that could reveal a secret so shocking that it just might shake the foundations of one of the world's largest religions to the ground. (How's that for a dust jacket blurb?)
Anytime a book, especially a fictionalized version of history and even more so when it involves events in the bible hits the bookstores, there's bound to be controversy. I'm sure this has been the same for you. Can you share what some of the controversies have been since you've published 'The Judas Apocalypse'?
DM: I thought about sending a couple of copies to the Vatican, just to see if I could stir things up.
Oooh! I bet you would have incurred the wrath of God via the Roman Catholic Church if you had! LOL!
DM: Seriously, it's been pretty low key considering what's presented in the book, but maybe readers are becoming more questioning and more open to these kinds of things. I've had more than a few people tell me that they're looking at certain events in a whole new way because of the novel, so that's good. One reviewer wrote that she found it "haunting." I've been actually waiting for the hue and cry from my relatives, but so far nothing. That's good too! I do have to say that the biggest compliment I get is that the reader can't put it down. That is what I find most gratifying.
The road to publication is difficult at the best of times. Was it difficult for you to land an agent? Do you have any advice you'd like to share with the author struggling to find representation?
DM: Actually, I'm still looking for an agent, so yeah, I'd say it's difficult to land one. Hello…agents?
Becoming a published author is truly a difficult road to travel, so we're always pleased when a fellow writer is plucked from relative obscurity to land a book deal. How did you find I Publish Press?
DM: I had sent out about 200 query letters to agents and was dead centre in the middle of nowhere when I came across the I Publish Press website. They were running a contest so I thought, "What the hell, let's give it a try." Because I knew that they'd have to read the whole manuscript, not just the first couple of chapters, I thought that at least I would get a critique. It would help me fix what needed to be fixed and maybe I'd have a better shot at getting it published. I then promptly forgot about the whole thing in a flurry of new agent queries. I received the email in March of 2007 and remember being both thrilled and utterly shocked at the same time when they told me it won and that they were going to publish it. I also remember thinking "how the hell did that happen?" too. It was very cool.
Cool indeed! I'm curious about your writing style. Are you one of those disciplined writers who must dedicate a certain time each day to producing so many words, or are you more relaxed and tend to write when it strikes your fancy?
DM: Both. I usually write early in the morning but oddly enough, I like to compose music late at night. When I was writing the second novel, I tried to adhere to a schedule, but since I'm not a full time writer, work tended to get in the way. Many nights I was drained from working and not in the mood for writing so I found myself getting up earlier in the day before work to write. It seems to work for me.
Still on the subject of writing styles, are you a plotter or pantser? The readers would like to know if you tend to plot out your story line in great detail or if your writing is more organic with the characters and events unfolding as you write.
DM: For 'Judas' I had the basic plot planned out in advance but the writing was definitely organic, especially after what I found in my research. It just kinda took off in a different direction, so I let the writing follow. Maybe it's because I'd never done it before but when I was writing, I discovered that it was like watching a movie – I saw the events unfold and so I had the characters react accordingly. I found it kept things interesting and fresh. It really took on a life of its own.
With 'The Judas Apocalypse' in print and another novel, 'I Want to Hold Your Hand' recently completed, these are two completely different types of stories. I'm curious, where do you find your inspiration?
DM: I've always been a huge Beatles fan. I remember reading in Peter Brown's 'The Love You Make' (one of the best books I ever read about the Beatles, by the way) that in the hour they were on "The Ed Sullivan Show" in February 1964, not even a hubcap was stolen in New York because everyone in the whole city were crowded around their TV sets. It occurred to me that it would have been a perfect time to rob a bank. That's when the light bulb clicked on and the basic premise for 'I Want To Hold Your Hand' popped out. The rest of the story and the characters came very quickly to me after that. I'm really happy with the way it turned out too. (Again, hello agents out there…)
Some authors meditate, others need to fuel up on coffee or listen to music. Do you have any rituals, ones that can be shared with the readers, that you must do before you hunker down for a writing session?
DM: Not really. I just know when I have to do it. It's kind of like writing music. Sometimes a tune or chord progression comes to me and I need to get it out. If I get a story idea, I jot it down or put it in Word and go from there. I do wish I had a ritual that I could stick to though – maybe it would help me to write on a more regular basis.
At one time or another, most writers hit the wall and their work stalls because of the dreaded writer's block. What do you do to get around or over this mental wall to resume writing?
DM: I used to work in television news so every night I had a 6 PM deadline. I found that the best thing for me is to create a deadline so that I'm forced to write. It's funny. Considering how epic and complex the first book was, I never suffered writer's block. I did hit the wall a couple of times in the Beatles story though, but for not very long. You'd think it would have been the other way around, considering the topics of each book.
Who is your favourite author and how has he/she inspired you to write or influenced your writing style or choice of genre?
DM: I know it's cliché, but my favorite book is 'Catcher in the Rye' by J.D. Salinger. I first read it when I was 19, and I think I read it once a year. It was certainly an influence on me as was, believe it or not, David Niven's 'The Moon's a Balloon.' I remember reading that book when I was 14 and I loved his easy going, conversational style. I also found it very visual. It must have rubbed off on me because I've been told a number of times that my writing is very visual too. I'm also a big fan of Jeffery Deaver. I love his style and the way he leaves you hanging at the end of every chapter.
What is the most profound discovery you've made in terms of your writing and how it has touched the lives of others?
DM: I'm constantly amazed and humbled by how much readers seem to like the book. I mean, it's the first book I ever wrote. First of all, I never expected it to be published, and second, I never expected it to affect people the way it has. I think I may stick with this writing thing…
What is the most important lesson you've learned on the road to publication?
DM: It's really damn hard to get an agent!
What are you reading now, and how did this particular book make it onto your to-read list?
DM: I just finished re-reading 'The Alienist' by Caleb Carr. Great historical thriller – love this kind of stuff. Now I need to find something new…
What do you foresee in your future over the next five years, a return to music and songwriting perhaps? Can your fans expect a sequel to 'The Judas Apocalypse' in the near future?
DM: I'm getting the itch to write music again, and I have a couple of ideas for a couple of new stories – just need to find more time! I've also written a screenplay based on my Beatles story – again, just wanted to see if I could do it. A sequel to Judas? Whew! Yeah, that's possible…
Thank you so much for taking the time to tell us about 'The Judas Apocalypse' and for sharing in your adventures in writing, Dan! Wishing you continued success and many more hours filled with creative inspiration in both your music and storytelling.
----

---
http://
Similar By Terms