Amazon Kindle edition of White Lie and the book signing event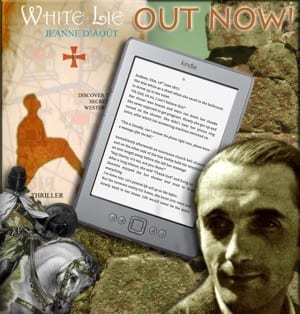 WHITE LIE – THE TRUTH IS OUT THERE
Belvianes, France, August 15, 2012 -- The truth is out there and it is much more unbelievable than fiction. Thirty years ago, 'Raiders of the Lost Ark' exploded at the box office. The adventures of Indiana Jones were pure fantasy but the man he was based on was very real. His name was Otto Rahn.
Indiana Jones is a pop-culture phenomenon - Spielberg saw to that - making the charismatic relic hunter, who was willing to risk life and limb to outsmart the Nazi's and beat them to discovering the Ark of the Covenant and the Holy Grail, impossible to forget. Was Indy pure fiction? Not quite.
'White Lie' is a story about forbidden history, hidden relics and the adventures of a group of people who get involved in something much bigger than themselves. It combines the mission of the Knights Templar - the warrior monks who legends claim discovered a sacred treasure beneath Solomon's Temple - with Nazi relic hunter Otto Rahn.
"White Lie reveals more shocking truths than any book since The Da Vinci Code, including the identity of the real Indiana Jones. It would not surprise if it was adapted for the big screen soon." - Andrew Gough, Writer, TV Personality and Editor in Chief of Mindscape Magazine
The hard copy of 'White Lie' has already been read by thousands of people worldwide and is has been called a potential global bestseller by several of its readers. Today the Amazon Kindle version has gone online.
Info:
www.jeannedaout.com<
Meet the author at the book signing event on September 2nd in Alet-les-Bains at the Angel Gallery (www.lorriesangels.com<) from 10.30 to 17.00 hours. Everyone is welcome
The Kindle edition is no longer available.
You can look at paperback edition of White Lie:
Similar By Terms
| | | | |
| --- | --- | --- | --- |
| | | | |
| | | | |