Otto Rahn Memorial Website interview with Jeanne D'Août, the Author of White Lie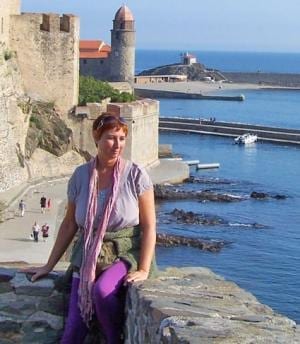 Hi, Jeanne!
I congratulate you on the release of your book White Lie. This is a great event for all who are familiar with the work, searching and life of Otto Wilhelm Rahn. When did you first hear of him?
Jeanne:
The first time I heard of Otto Rahn was probably during my research of the history of Montségur and the Cathars in connection with Grail lore. I never studied the man himself and only knew what most people know; that he researched Grail lore, visited Montségur and was working for Himmler as a relic hunter in a pre-war Germany. It wasn't until 2008 that a friend sent me "Crusade against the Grail" in English, followed by "Lucifer's Court" and Nigel Graddon's "Otto Rahn, Quest for the Holy Grail". I was thinking of writing a thriller book at that time about the 1st century, and the mysteries of the Languedoc. I had already done a lot of research for the book, but didn't get around to actually writing it, because the financial crisis had made me and my husband work 7 days a week to make a living. In 2011 I first had the chance to sit down properly and started writing in January. I would write almost 18 to 20 hours a day for several months and Otto slowly became one of the key players in the book.
Q.: In the literature and studies we saw Otto in different manifestations - from hero to criminal, from one of the ideologues of the SS to a pacifist. How do you see him?
Jeanne:
First of all I do not believe that Otto was a criminal. From studying his original writings I get the idea that he was a sensitive person, with love of nature, mountains, animals, archaeology, history, myth, legend, and above all, Grail lore. I believe that he wanted to be as far away from Berlin as possible, but also that he first believed the false Nazi propaganda, and discovered much too late that he was actually swimming with sharks. It is clear that he was shocked when he found out; he even had the courage to resign from the Algemeine SS, and on top of that, his mysterious death near Erberg in Austria seems to prove that he either couldn't live with the rapidly increasing violence and cruelty in his country, or that he was becoming some kind of threat to Berlin. After all, correspondence suggests he was meeting with people who were anti-Nazi. So although I am not sure he was a hero, I do not believe he was a criminal. My research suggests he was a relic hunter with a sense of adventure, a real Indiana Jones...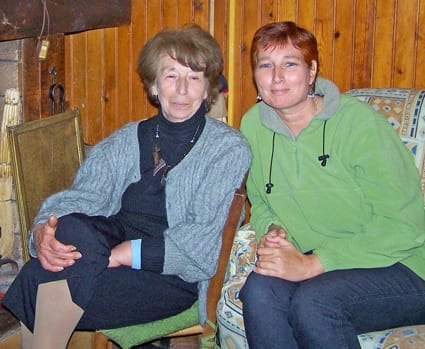 Q.: Why has your book such a title 'White Lie'? How did it appear? Were there other intended titles?
Jeanne:
By the time that the reader gets to 2/3 of the book, he/she will understand why I chose 'White Lie' as the title. This title appeared to me in a flash, before I even started to write. I was still researching at the time. There was 1 older title, but I chose not to use it, as it would give away too much of the plot of the story! ;)
Image: Jeanne D'Août with Emee Couquet (who remembered Otto when he was staying at her parent's pension in Montsegur in the early 30-ies)
Q.: There are several books devoted to the personality of Otto and his research (Nigel Graddon, Howard Buechner...). Otto became a character in many books of recent times (The Sixth Key, The Judas Apocalypse...). What do you think, what is the reason of such interest to the figure of this man?
Jeanne:
Otto is quite a character. His life is an enigma and this attracts people to investigate. And once people are researching Rahn's life, they are hooked. Because there is still a mystery surrounding the man and his mission, we feel we need to solve it. Although I first never intended to involve Otto in White Lie's adventure, he walked in all by himself, simply because someone sent me his books. It is almost as if Otto is very much among us on a spiritual plane, reaching out to writers, hoping that one day his real story will be told...
Q.: What do you think about the events at the foot of Kufstein Mountain in Austrian Tyrol Alps? It is believed that it was just staged. Did you investigate it?
Jeanne:
This has been investigated by several people, and I have studied closely what they have found. But when you are so close to a certain historical figure and when that person has also become so very close to you, it is possible that the images and fragments you see and the emotions you feel while studying his life and death are very real. I have used these images, fragments and emotions to guide my personal views and to fill in some of the blank spots of Otto's life, which I have used in my book to complete his story. However, I have seen a copy of his passport which had been damaged by water, but the picture was still visible. This picture was the last one that had been taken of him in early 1939.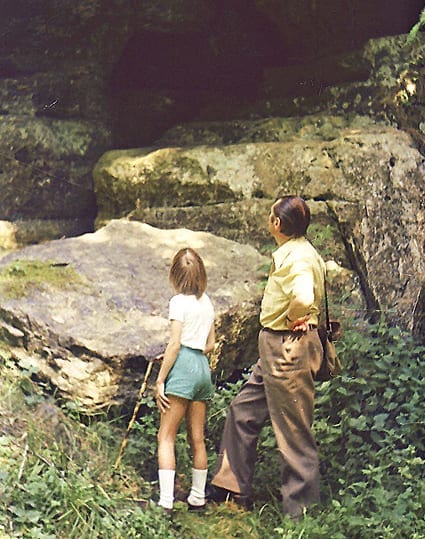 When I looked at the photo I became very sad, for the face that stared back at me with hollow eyes was skin over bone. His expression was that of a very depressed man, who was obviously hurt. No, I do not think his death was staged. But what really happened, well, read 'White Lie' and find out what might have happened!
Q.: Tell about yourself, your life, your family, what do you dream about?
Jeanne:
I was never planned by my parents, who are Lutheran. Therefore they decided not to baptise me and let me choose my own way of life. I was, however, sent to a Christian school because it was the best school in town. I argued with my teacher at the age of 7 about a contradiction in the New Testament and was sent out of class. When my father asked me that evening why I was sent out of class, I said: 'Give me a Bible!' and he did. We both found the contradiction and he was proud of me! From that moment on I decided to double check everything I was taught at school. When other children were making clay ashtrays, I was making cuneiform tablets. When my friends were in discoes, I was in libraries. This path which started at the age of 7 would lead me to places like Greece, Turkey, Italy, Cyprus, Israel and Egypt. It would allow me to study Gnocism and Mysticism. And it would also bring me here, to Occitania, southern France, where I would stumble upon some fantastic historical material that eventually inspired me to write White Lie. My husband and I are very aware that there is a forbidden history, and that it is now time to uncover it. My dream? To create with some fab film producers and directors a movie based on White Lie, so that even more people will enjoy the story and be inspired by the deep message that lies within it.
Image: Jeanne D'Août and her dad exploring (she is 7). He is the one that encouraged her to do research.
Q.: What do you believe in? Did you have yourself some mystical experience? Your book has a lot of mystical things...
Jeanne:
My beliefs are the pearls of many philosophies and religions, and being a Rosicrucian myself I am also into mysticism. The moment you start walking that Path you automatically go 'online' to a deeper Self. You also learn how to tune into to a higher consciousness, and the moment you are ready, you are being put to work, which is sometimes referred to as 'The Great Work'. 'White Lie' is a product of my Path."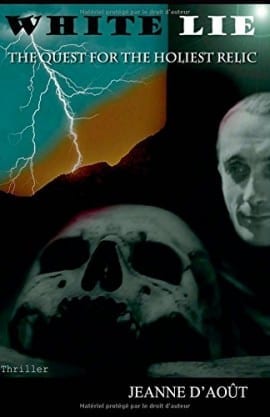 Q.: When and how did you realize that you should write a book? And what is in your plans now?
Jeanne:
I have been doing a lot of research for decades, and being a tour guide here in Occitania gave me the chance to discuss certain interesting topics with individual clients. Almost all of them asked me, 'why don't you write a book?' It made me realize that I should share my theories, and to do so with a larger public I chose the fiction thriller format. In 2008 I made a big discovery, which led me to write down certain subjects, and immediately I knew this would be fab material for a thriller book. A few years later I started writing, with 'White Lie' as the result. My future plans? Documentaries and a movie based on the story of 'White Lie', as well as writing a sequel, which will again reveal a big secret, albeit a much more ancient one this time... ;)
Q.: What does the name Jeanne D'Août mean? Why did you sign the book with it?
Jeanne:
To pay homage to the past, I decided to write under my ancestral name; 'D'Août'. Jeanne is merely the French version of my first name. The D'Août family is from France and has a beautiful family crest; a dove sitting on a branch carrying a laurel twig in its beak...
-----
Jeanne, thanks for your answers. And special thanks for your contribution to preserving the memory of this man. A man who had a dream. Good luck for you and for White Lie!
I want to supply our conversation with comments from the Jeanne's profile that was found by me:
Richard Stanley:
"The quest continues! One mystery leads to another and I feel like a child again, playing on the uttermost doorstep of eternity. Congratulations on a fabulous read! I know Otto would have been proud." Richard Stanley
Another researcher, Andrew Gough, who has also studied the life and times of Rahn:
"White Lie reveals more shocking truths than any book since The Da Vinci Code, including the identity of the real Indiana Jones. It would not surprise if it was adapted for the big screen soon."
Andrew Gough - Writer, TV Personality and Editor in Chief of Mindscape Magazine-----
And I would like to conclude it with the words of Richard Stanley, that he once said, by visiting our website:
Wherever the hell Otto is now - I'm sure he's smiling!
I am sure it concerns your book too.
by Vitaliy Lozovskiy,
November 29, 2011
Some links:
All rights reserved to the Otto Rahn Memorial Website www.otto-rahn.com. <
You are free to spread this article over the Internet, but with all included links, link to this page and this remark only.
To public it out of the Internet you should get permission from the author.
Termes similaires
| | | | |
| --- | --- | --- | --- |
| | | | |
| | | | |